Produuct Information:
Cat.No .:

C02601

Source:

Monoclonal Mouse Antibody

Subtype:

mIgG1/mK

Molecular Mass:

150 kDa

Expression Host:

HEK293 cells

Formulation:

Purified, Liquid

Buffer:

Phosphate Buffered Saline,5%mannital,0.05% Tween20, pH7.4

Purification:

>95% pure (SDS-PAGE).

Storage:

For long term storage, the product should be stored at -20°C or lower.

Please avoid repeated freeze-thaw cycles.
Description:
Rotavirus, member Reoviridae family, is a non-enveloped double-stranded RNA (dsRNA) virus whose architecture is that three concentric capsids surround a genome of 11 segments of dsRNA. The RNA encodes six structural proteins (VP1, VP2, VP3, VP4, VP6 and VP7) and six non-structural proteins (NSP1, NSP2, NSP3, NSP4, NSP5 and NSP6), both determining the host specificity, cell entry and enzymatic functions and comprising epitopes that generate immune responses. The non-structural proteins are associated with genome replication. Two rotavirus vaccines are broadly used worldwide: the RV5 vaccine and the RV1 vaccine. RV5 vaccine is a live attenuated pentavalent vaccine,while the RV1 vaccine is a live attenuated human monovalent virus vaccine.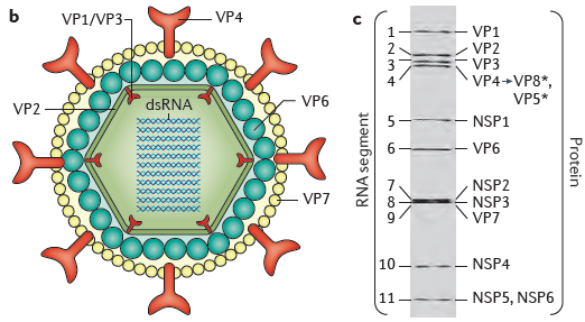 Figure.1 Rotavirus Structure Diagram
Figure.2 Rotavirus replication cycle
References:
[1] Crawford SE, et al. 2017. Nat Rev Dis Primers. 3:17083.
[2] Mahmud-Al-Rafat A, et al. 2018. Infection. 46(1: 15-24.