Product Information:
| | |
| --- | --- |
| Known: | Beta-1 metal-binding globulin, Siderophilin, Serotransferrin |
| Source: | Homo sapiens (Human) |
| Cat.No .: | Y04501 |
| Construction: | Val20-Pro698 |
| Tag: | Free Tag |
| Molecular Mass: | 76.5 kDa |
| Expression Host: | CHO |
Preparation:
Lyophilized from 0.22 μm filtered solution in sterile water
Quality control:
Purity:≥ 95% as determined by SDS-PAGE.
Endotoxin:< 0.5 EU/mg as determined by LAL test.
Storage:
Use a manual defrost freezer and avoid repeated freeze - thaw cycles.
12 months from date of receipt, 2℃ ~ 8℃ as supplied.
1 month, 2℃ ~ 8℃ under sterile conditions after reconstitution.
6 months, 2℃ ~ 8℃ under sterile conditions after reconstitution.
FOR RESEARCH USE ONLY
Description:
This protein is thought to have been created as because of an ancient gene duplication event that led to the generation of homologous C and N-terminal domains each of which binds one ion of ferric iron. The function of this protein is to transport iron from the intestine, reticuloendothelial system, and liver parenchymal cells to all proliferating cells in the body. This protein may also have a physiologic role as granulocyte/pollen-binding protein (GPBP) involved in the removal of certain organic matter and allergens from serum. [provided by RefSeq, Sep 2009].
Transferrin (Tf) are glycoproteins found in vertebrates that bind to and consequently mediate the transport of iron (Fe) through blood plasma. They are produced in the liver and contain binding sites for two Fe3+ ions. Human Tf is encoded by the Tf gene and produced as a 76 kDa glycoprotein. The N- and C- terminal sequences are represented by globular lobes and between the two lobes is an iron-binding site. The amino acids which bind the iron ion to the Tf are identical for both lobes: two tyrosines, one histidine, and one aspartic acid. Two main Tf receptors found in humans are denoted as Tf receptor 1 (TfR1) and Tf receptor 2 (TfR2). Although both are similar in structure, TfR1 can only bind specifically to human Tf, while TfR2 also has the capability to interact with bovine Tf. When ligands, such as holo-Tf, are internalized into the cell through clathrin-mediated endocytosis, endocytosed ligands are sorted along the trafficking pathway into three main populations of endosomes: early endosomes, late endosomes, and recycling endosomes. Studies suggest that ligand sorting begins at the cell surface, separating ligands into two distinct types of early endosomes with different maturation kinetics: dynamic or static. Early endosomes maturing quickly into late endosomes comprise the dynamic population, whereas the slower-maturing endosomes comprise the static population. Ligands destined for degradation, such as low-density lipoprotein (LDL), have been shown to be preferentially trafficked to the dynamic population of early endosomes. Tf, on the other hand, follows the recycling pathway and indiscriminately enters both populations of early endosomes. However, since the population of static early endosomes is much greater than that of the dynamic early endosome, Tf becomes enriched in the static population of early endosomes. This pre-early endosomal sorting process is believed to be the first step in the segregation of cargo destined for degradation from those intended to be recycled back to the cell surface.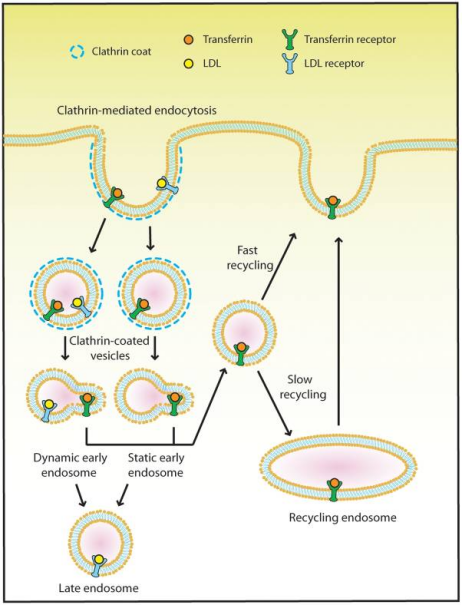 Figure. Intracellular signaling pathway of transferrin
References:
[1] Kawabata H. 2019. Free Radic Biol Med. 133:46-54.
[2] Mayle KM, et al. 2012. Biochim Biophys Acta. 1820(3: 264-281.