Product Information:
Known as:

Granulocyte Colony-Stimulating Factor, Colony Stimulating Factor 3,

Pluripoietin, Lenograstim, Filgrastim, C17orf33

Source:

Homo sapiens (Human)

Cat.No.:

Y01501

Expression Host:

HEK293 cells
Formulation:
Lyophilized from 0.22 μm filtered solution in PBS,5%mannital,0.01% Tween80 pH7.4.
Quality Control:
Purity: ≥ 95% as determined by reducing SDS-PAGE.
Endotoxin: < 0.5 EU/mg as determined by LAL test.
Storage:
Use a manual defrost freezer and avoid repeated freeze - thaw cycles.
12 months from date of receipt, -20 to -70℃ as supplied.
1 month, 2 to 8℃ under sterile conditions after reconstitution.
6 months, -20 to -70℃ under sterile conditions after reconstitution.
FOR RESEARCH USE ONLY
Description:
This protein is a cytokine that controls the production, differentiation, and function of granulocytes. The active protein is found extracellularly. Alternatively, spliced transcript variants have been described for this gene. [provided by RefSeq, May 2010]
Granulocyte-monocyte colony-stimulating factor (GM-CSF) is a cytokine mostly acting as a hemopoietic growth factor on the proliferation and differentiation of myeloid cells from bone marrow progenitors. Besides its well-known hematopoietic role, GM-CSF is involved in the modulation of differentiation, polarization, and activation of immune cells such as macrophages, dendritic cells, and lymphocytes, resulting in a strong influence on the typical immune/inflammatory cascade of chronic autoimmune diseases. GM-CSF circulating levels are quite low in homeostatic conditions but can quickly rise in a few circumstances, such as infections or inflammation. In fact, several cell types can produce GM-CSF, including endothelial cells, macrophages, fibroblasts, DCs, neutrophils, eosinophils, resident tissue cells, T cells, and cancer cells. GM-CSF works through the binding to its receptor, a heterodimeric molecule composed of one α chain, specific for the ligand, and one β chain, specific for the transduction of the signal into the cell, which is shared with IL-3 and IL-5. Once GM-CSF binds to its receptor, the signal is transduced not only mainly through the JAK-2/STAT pathway but also through the mitogen-activated protein kinase (MAPK), nuclear factor (NF)-κB, and phosphatidylinositol 3 kinases (PI3K) pathways.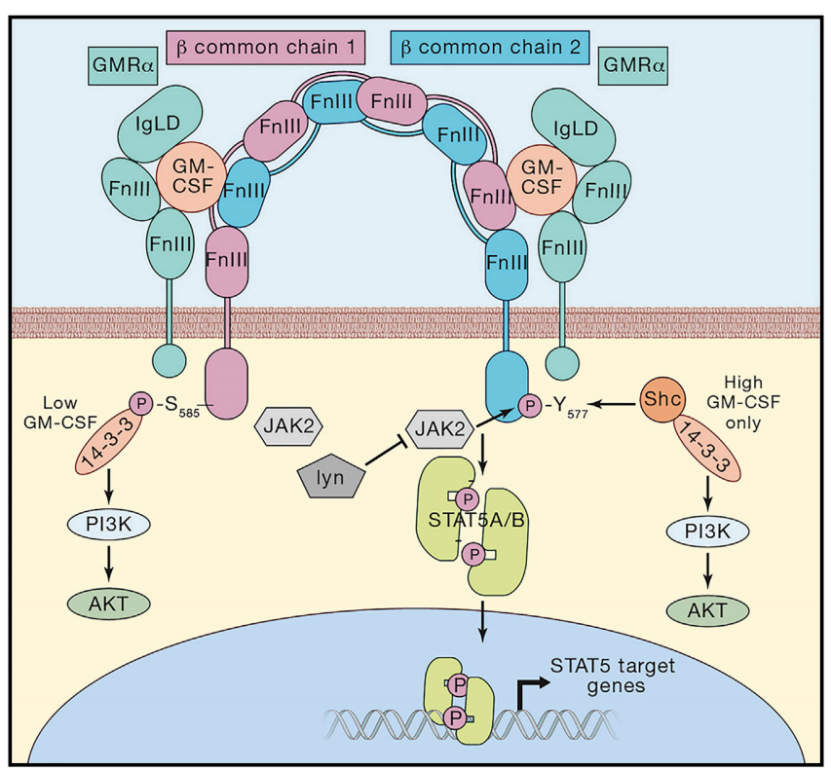 Figure. Schematic diagram of the GM-CSF signaling pathway
References:
[1] Crotti C, et al. 2019. Drugs. 79(16):1741-1755.
[2] Dougan M, et al. 2019. Immunity. 50(4):796-811.