Product Information:
Source:

Dengue virus type 3 (strain China/80-2/1980) (DENV-3)

Cat.No .:

A00203

Construction:

Met775-Ala1125

Tag:

His Tag

Molecular Mass:

39.71 kDa

Expression Host:

HEK293 cells

Formulation:

Purified, Liquid

Buffer:

Phosphate Buffered Saline,5%mannital,0.05% Tween20, pH7.4

Purification:

>95% pure (SDS-PAGE).

Storage:

For long term storage, the product should be stored at -20°C or lower.

Please avoid repeated freeze-thaw cycles.
Description:
Dengue virus (DENV) is a single-stranded positive-sense RNA virus that causes dengue fever, belonging to the Flaviviridae family. A total of four antigenically distinct serotypes (DENV1, DENV2, DENV3 and DENV4) have been identified with different manifestations of clinical symptoms despite sharing 65% similarities. DENV non-structural protein 1 (NS1), one of the 7 non-structural proteins in DENV, is a highly conserved 48-kDa glycoprotein with serotype-specific epitopes that enable differentiation of DENV serotypes. NS1 is the only protein that is continuously secreted by infected host cells. NS1 is secreted in a hexamer form, which is composed of three dimers with a detergent-sensitive hydrophobic central cavity that carries a cargo of ~70 lipid molecules. The NS1 can be detected in the serum of patients from the onset of symptoms, which serves as a more useful diagnostic marker for the early detection of DENV. Furthermore, DENV NS1 plays a pathogenic role in vascular leakage.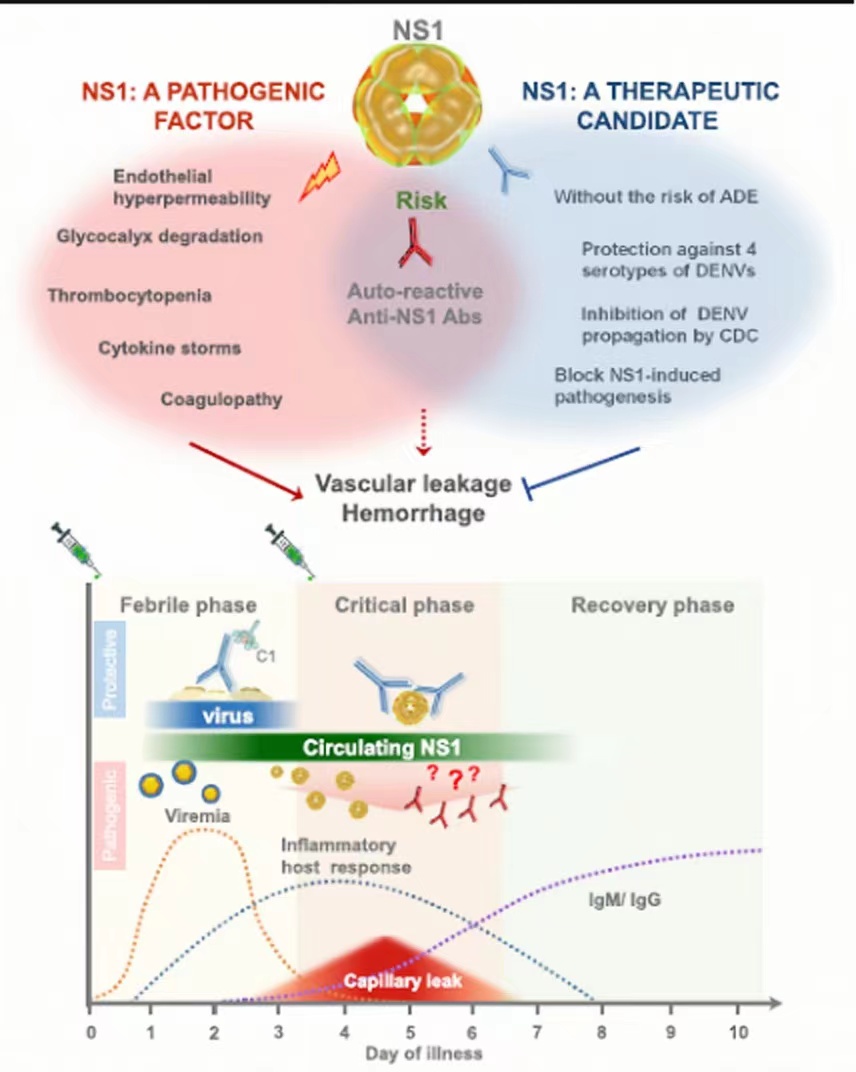 Figure. Possible Pathogenic Role of DENV NS1 and Its Potential as a Therapeutic Target for DENV Infection
References:
[1] Poltep K, et al. 2021. Sensors (Basel). 21(23: 7809.
[2] Chen HR, et al. 2018. J Biomed Sci. 25(1: 58.
[3] Tang YL, et al. 2015. Int J Mol Sci. 16(11: 27850-64.