Product Information:
Cat.No .:

C02703

Source:

Monoclonal Mouse Antibody

Subtype:

mIgG1/mK

Molecular Mass:

150 kDa

Expression Host:

HEK293 cells

Formulation:

Purified, Liquid

Buffer:

Phosphate Buffered Saline,5%mannital,0.05% Tween20, pH7.4

Purification:

>95% pure (SDS-PAGE).

Storage:

For long term storage, the product should be stored at -20°C or lower.

Please avoid repeated freeze-thaw cycles.
Description:
Influenza B viruses are enveloped, negative-sense single-stranded viruses consisting of 8 genomic RNA segments that code for at least 11 viral proteins. These proteins comprise the polymerase subunits (PA, PB1 and PB2), non-structural protein (NS1), nuclear export protein (NEP), matrix protein (BM1), ion channel (BM2), surface glycoproteins (HA, NA and NB) and the nucleoprotein (NP). NB is encoded in the same segment as NA (segment 6) and while it is the only protein unique to influenza B viruses, its function is not fully understood. A brief summary of the functions of influenza B proteins are given in the Figure.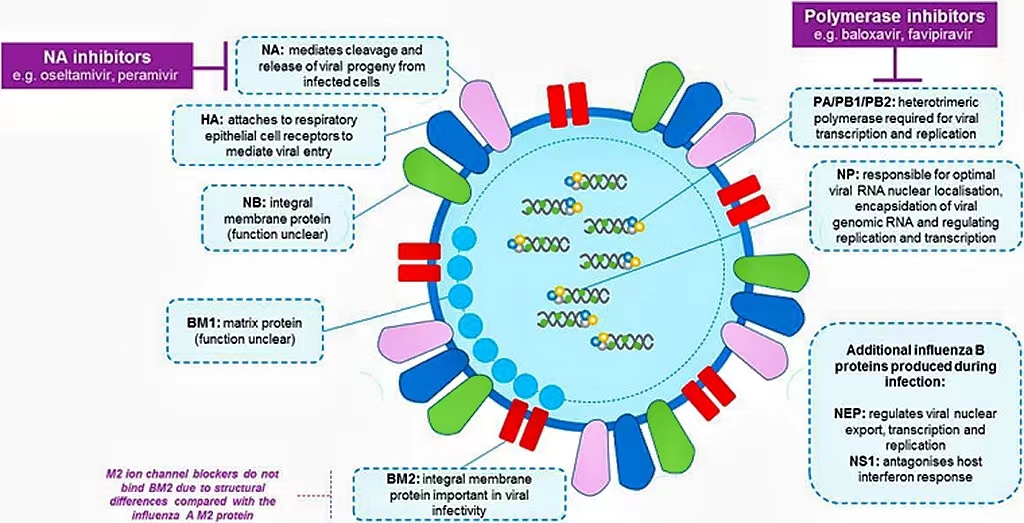 Figure. Structure of Influenza B Virus
References:
[1] Zaraket H, et al. 2021. Antiviral Res. 185:104970.